Wednesday, November 29, 2006
Posted by

Shana
at 11:23 AM
0 comments

Friday, November 24, 2006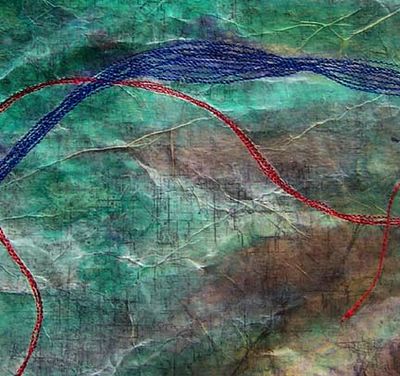 mapping mulberry
Posted by

Shana
at 12:52 PM
0 comments

With all the festivities of autumn, I have been procrastinating on my school work. Still thinking about starting that take home exam on the history of reading and books, and still working on my map, which has turned from a printmaking project into a sewing one. I have a new appreciation for Mulberry paper, however (and rice paper in general, which is really made from the mulberry tree) as I rubbed it with oil, sprayed it with water and ink, threw it in the bathtub for a rinse, dried it with a hair dryer, abused it more with obsessive stitching and not once has shown signs of disintegration like many other papers would. It is still "in process" though, as are most things in my life.

Today, I am recovering from the thanksgiving hangover, thanks to JP's birthday cake, Judy's pumpkin tarts and Jessica's organic whipped cream which was just the dessert end of the feasting. Little Pet seemed to enjoy the tart cranberries, warm carrots, nibbles of turkey, wild rice and pie, even chewing on an asparagus stalk for some time, but wasn't so sure about those mashed potatoes everyone loves. The boys enjoyed seeing both side of the family, as one side lives six blocks from the other, and my dad joined us for both.

The house is still decorated with streamers and droopy helium balloons from little Pet's party and she is exploring all the little goodies she got as presents. She carries around her farm animals and drops them in the little cart to push around the house. She loves the little people bus and can bang on the bongo with her maracas while rocking out to dad's TVon the Radio and Cut Chemist. And of course, mom and dad love the hand made butterfly-sleeved vest Amu crocheted, which every toddler ought to have, and the soft down snow suit and boots from Nana and Grammy.
I am still finding odd objects in my laundry chute; things like my jury summons, a palette knife, notes on Japanese stab binding, little bells tied to a ribbon and lots and lots of bits of tape. The story goes that Juji and friend were sending notes to each other up and down the chute via helium balloons and needed weights and such for the decent. Ko, according to Juji and pal, was the one who went willy nilly with the tape and the random objects down the chute. But I know the balloon hanging at eye level with the fork taped to was and could only be the work of sir Juju and company.
Posted by

Shana
at 12:47 PM
0 comments

Thursday, November 09, 2006
Birds in the leafosphere
Posted by

Shana
at 7:03 PM
0 comments

Today is little Pet's first birthday. An unusually warm day that allowed us to crunch through fallen leaves, chase after stelladog in the yard and eat a little dirt and sand just for old times sake. I raked a gargantuan amount of leaves to cover my strawberries and dumped a ton into the neglected compost bin, snipped a few broccoli florets for soup this weekend and even got the diapers and sheets up on the line for some fresh sunny air.

Seems as if the midterm crush is letting up a bit and I am enjoying my time alone with my sweet little one-year old. She babbling in N's and M's and is now saying mama and nana, along with the usual dadas, Jujus and even an attempt at Stella (ella or yaya). "Is it" is about her favorite word these days. She says it when she wants to read a book, as she climbs onto the bed dragging a book behind her. She says it when she wants to know what something is, or if she wants to see something up close, pointing with her whole arm and leaning towards it.

I have rediscovered the adjustable fleece pouch and found a hip position that works well for us right now. She is happy to be up a little higher and it is preventative medicine for the fussy, clinging to the pant legs that has developed recently.

I finished up a self portrait in acrylic last week and a photo project a la Andy Goldsworthy and am now attempting to map my mind, a vague open-ended assignment that I have been experimenting with. I am thinking about mapping the state parks and trials that we camped and hiked through as kids using tracing paper, India inks, sewing, laser transfers and matte gel medium. I am having fun with this one, coming home with my hands all full of glue and paint like a good art student (or kid) should.

So happy birthday to Little Pet, one year old, one layer of life wrapped up in a tiny body and little sponge-like brain. I will remember her shock of dark hair and persistence in eating. The soft and dreamy feel of a newborn sleeping on my chest, the thick thighs and blue-brown eyes. Little Pet, now walking and ready for the world. Her birthday party is planned and I know she will love it, as she has loved being with her family and friends since her early first days.
Posted by

Shana
at 6:46 PM
1 comments